Catalogs
Use these handy dandy catalogs and parts manuals as a reference when ordering parts. When in doubt, always use the original Innocenti part numbers as each part tends to go by 4-5 different names across the globe. This makes ordering much easier for everyone and ensures that you get the correct part. Feel free to use our library of manuals whenever you wish as you rebuild, restore, and maintain these classics for years to come. If you cannot find an item on our website, please ask, we can special order anything you see in these pages at any time.
See also the Technical Help section for more useful information.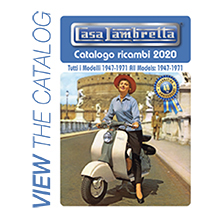 The new 2020 Casa Lambretta 40th anniversary spare parts catalog featuring the most extensive selection of brand new made spare parts for all Lambretta models from model A to DL and beyond. This new catalog has 392 pages of all the available remade parts from Casa Lambretta plus sections listing parts available from Casa Performance and BGM. This catalog like previous versions follow the original spare parts catalogs produced by Innocenti so finding parts are extremely easy.