BGM Classic: 3.5x8 tire 46P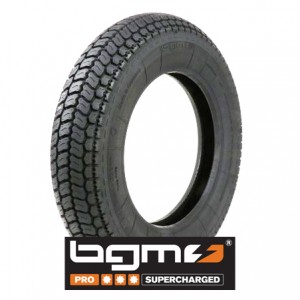 Brand:

BGM

Product Code:

J201289

Availability:

Usually available in 5-7 Days
---
---
Tires are indisputably one of the most important components of our scooters. It establishes the contact to the road and is therefore not only responsible for safety but also for the fun of driving. The aim was to develop a tire that you can use in wet conditions as well as in dry conditions to iron through bends and roundabouts! This, coupled with the speed approvals required for today's engine concepts, left only one way open: a completely new development!

For the performance of a tire, two things are crucial: the rubber compound and the construction of the tire. The bgm tires here are designed without any compromises and produced in Germany. All innovations of the last years from the tire technology have been incorporated into our tires. The specially adapted material mixture with a high silica compound ensures excellent grip in dry and wet conditions. The extremely stable carcass ensures perfect straight-line stability and excellent line fidelity during rapid cornering. Usually tires are simply molded from one layer of rubber. The bgm tires are much more complex to produce and consist of several layers of rubber to create the perfect tire that meets the highest requirements and has the highest speed rating on the market.
Features:
Releases up to 180 km/h (Sport) and up to 150 km/h (Classic) are ideal for high performance engines and corresponding registrations
Additional REINFORCED marking.
Extremely strong carcass for perfect straight-line stability and excellent line holding during fast cornering.
V shape instead of U shape. This means that the tire steers much better in bends and offers more contact area when leaning.
Specially adapted material compound (Silica Compound ) for excellent grip in dry and wet conditions.
100 % Made in Germany.

The bgm Classic profile is a tribute to the tread type chosen as original equipment on many Vespas and the Lambretta. Thus it perfectly combines a timeless classic tread with the tire technology of the 21st century.

Part Number
BGM
BGM35008CT
Related Products