Jockeys replacement rear brake shoes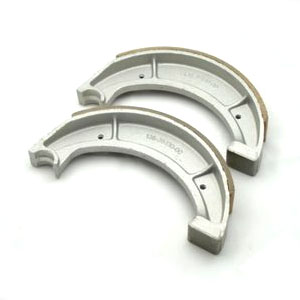 Replacement rear brake shoes for the awesome Jockey's rear brake system. These are the pair of rear brake shoes only. The complete kit comes with shoes.
About the Jockey's brake system:  We experienced huge problems in our workshop fitting the standard rear brake. Main reasons for this is the fact that the two M8-threats for the pivot pins are not exactly aligned and most of the aftermarket brake pads are not perfectly machined. This means the brake pads are not centered exactly and as a consequence the rear brake won't work! With our rear brake conversion kit you can center the brake pads individually! We've tested this brake with Innocenti, Serveta and SIL engine casings and the different all rear hubs without any problems. However you could have problems with the reinforced "Tino Sacchi" hubs as their inner diameters are too small.