FA Italia Octopus tubeless wheel rim 2.10-10", aluminum- Lambretta, Black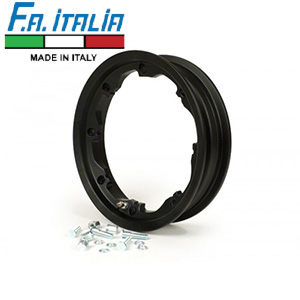 Robust aluminum wheel rim made by FA Italia for the Casa Performance Octopus rear hub. This rim allows the mounting of tubeless tires, which are common in the motorcycle sector. It replaces the standard rim without any further modification. The advantages are:
40% weight saving
safety plus through double-hump
Better responsiveness of the chassis
Good concentricity
Easy assembly
Appealing appearance
WEIGHT REDUCTION
The weight saving compared to an original steel rim is 600 grams. In addition, there is a weight saving of approx. 370 grams due to the no longer required tube. The un-sprung masses are thus reduced by almost one kilogram per axle (over 64%). The response behavior of the chassis improves noticeably.
SAFETY
Due to a double so-called "hump" in the rim bed, the tire is always guided safely in the rim. Similar to the latest run flat technology in the automotive sector, if a foreign object (nail or similar) is driven into the rim, the air can escape slowly without the tire slipping into the rim well. The vehicle comes to a controlled stop. The rim has recesses between the screw-on points. The cooling of the brake is improved.
SPECIALITIES
The eightfold bolted rim fits perfectly to the Casa Performance Multi-spline brake drum. With its eight bolting points, it offers twice as many bolts as standard. Can also be used on any series drum with four stud bolts without modification. Please use the enclosed longer brake drum studs.
The delivery includes four closed high cap nuts (chrome-plated, SW12) and a screwed-in metal valve (M8x1.25mm). Only for tubeless (TL) tires. Do not mount tube type (TT) tires. The rim does not have an approval mark and is not road legal.
NOTE: All 10 inch tubeless rims for Vespa and Lambretta do not comply with the ERTRO standard. The diameter in the center of the rim is a little too large due to the design, the tire may not sit sufficiently far into the rim well when fitted. Mounting by hand (with mounting levers) is very time-consuming, as the tire bead is under a lot of tension.
Tire fitting should therefore only be carried out by a specialist with appropriate equipment (tire fitting machine).
Related Products