CasaCooler standard magneto housing kit: red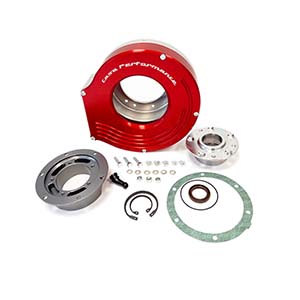 This is the new 'CasaCooler' magneto flange kit! It comes 101% complete and is plug n' play for any standard Italian, Indian or Spanish Lambretta engine casing : simply remove the old mag flange and fit this. The kit consists of the following parts :
1 x CNC external mag flange
1 x CNC central support section
1 x steel bearing + oilseal bush
1 x Viton oilseal
1 x CNC flywheel cowling
1 x complete set of fasteners + hardware
1 x silicone bead gasket
2 x circlips
1 x Viton 'O' ring
The CasaCooler kit is designed to dramatically increase the air cooling efficiency of your Lambretta, thanks to its computer-designed cowling which literally pulls air inside. CNC manufactured in Italy, in 6 colour options, these kits are a straight plug n' play swop for the original components and come complete with everything needed. The central steel bearing holder uniquely uses just one external Viton oilseal and engines spin MUCH more freely with this modification. Tried and tested on the racetracks, these incredible components are now available for your road going scooters.
Product advantages ;
- First product of it's kind ever produced for the Lambretta
- Computer designed cowling gives MASSIVE airflow induction
- Plug n' play part for ANY standard Lambretta engine
- Mental appearance
- Choice of 6 colour options
- VERY high quality Italian CNC production
- Unrivalled access to the ignition thanks to the use of external screws for the flywheel cowling
- Can also be used with a standard cowling if you wish
Another huge, positive factor is the aesthetical appearance of the kits - nothing of this kind has ever been available for the Lambretta scooter, until now.
Part Number
Casa Performance
X218kr